Across the Water
Sat, 06/09/2012 - 10:27
hhelinsky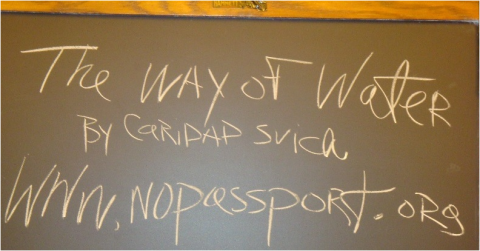 A reflection on the NoPassport reading scheme for The Way of Water from April 3 through June 4, 2012
by Caridad Svich
In the waning twilight of a late spring day, I shift through programs, notes, blog posts, and digital photos, audio and video files that are now the living archive of a seven week, 50 reading, and global reading scheme for my play The Way of Water. Old drafts, interim drafts and current drafts of the script sit in a folder on my laptop. Each draft bears memories of multiple actors' voices and bodies, locations of performance and the intangible sparks of feeling that coursed through audiences at any given presentation. "Passion" is the word that keeps rising to the surface, as I listen to an audio recording of the June 2nd reading by the Off the Hyphen theatre company at the Red Shoes centre in Baton Rouge, Louisiana directed by Eric Mayer-Garcia. Raw passion and the sheer nerve of actors meeting the text for the first time and making bold choices before an audience is felt even across the low-grade transmission of an mp3 file.
This same kind of passion is, in a sense, what spurred the implementation of this reading scheme: a dare, a shout, a desire to connect, a willingness to risk – even while being in the middle of an artistic process with the text – for the sake of raising awareness toward ongoing health and environmental concerns in the US Gulf region, and to commemorate also the loss of lives (avian, plant, marine, animal and human) during the Deepwater Horizon disaster and its aftermath. For me, the play's meaning has begun to shift, as the scheme has progressed over the last seven weeks. It has started to define itself more and more as a piece that looks at the fragility of human beings as they struggle with the face of imminent poverty, and in so doing, struggle too to find ways to resist social and economic "invisibility" and thereby, somehow, effect small measures of change in their world.
Long, crowded hours have filled a fruitful time spent wearing administrative, logistical and creative hats these past several weeks. Most of the time the process has been one of sheer invention - making it up as we go along – and the risk of it all has been thrilling to be a part of and to witness, as I engaged in a variety of virtual and live conversations with colleagues from Kitchener-Waterloo in Canada to Tasmania (Australia) about how to allow the play to co-exist and live, even in a one-day reading, within immediately local and global contexts in its many and varied presentations. The by-the-bootstraps aspect of this un-commissioned, un-funded international endeavor has been somewhat of a fascinating lesson, for me, about how to defy the more conventional apparatuses set up within the theatre industry in regards to new play development.
Although the implementation of the scheme did not begin necessarily with the goal of upsetting an existing paradigm, which is rooted in a reading to reading to workshop structure within fairly protected halls of practice, the fact remains that by this scheme's end, it has become increasingly clear to me that a different proposition has been enacted: one that perhaps follows the demo or rough cut method in the music industry. If I were to consider the draft of The Way of Water that was read on April 3rd at the launch of the scheme with ScriptWorks and Hyde Park Theatre in Austin, Texas, as the defacto "demo," the evolution of the scheme in tandem with the script's – especially through a significant studio retreat at the Lark Play Development Center in New York City in mid April 2012 – has resulted in a variety of evolving performance "demos" that have been played live and virtually (through The Way of Water video project produced by EAST LA REP and the live-streamed readings in Sao Paolo, Berlin and Houston) in front of incredibly disparate and diverse groups of audiences around the world in order to transform by the time of the June 4th, 2012 reading at Lookingglass Theatre in Chicago into what could be deemed a first recording or (in industry terms) a pre-production draft.
The variety of accents, actor and director choices, size and shape of indoor and outdoor venues chosen for presentation, aesthetic languages (in and out of translation), and levels of theatrical experience that have engaged with the script and have been a vital and democratic part of the lateral enterprise of putting the script in motion have placed me in a rather unique position in relationship to the material. In effect, what usually takes several production experiences to figure out, has been wildly compacted as a result of the intensive time frame of this reading scheme – a time frame determined by the activist impulse that initiated it to begin with (marking the two year anniversary of the BP oil spill disaster).
I'm not suggesting that this reading scheme should be a new paradigm, but what I posit is that each script needs to find its own distinct way to develop. There isn't and shouldn't be one overriding model. If you listen to a play close enough, hard enough, it may indeed tell you how it wants to be born and also how it wants to grow up (or not grow up, as the case may be) in the big wide world. Plays are living entities. They have heartbeats, even if they're mere signs on a page. They have a way of being, and as such, it is possible to consider that rather than adopting one model –one size fits all – for the development of new plays, one could adopt multiple models, change them, make them, upend them, subvert them, etc. depending on the nature of the play itself. Could our industry – our field – find ways to adapt, make room, and create space for the shifting natures of plays?
It could be argued that my dramaturgical team (Heather Helinsky and R. Alex Davis), NoPassport theatre alliance and I sent The Way of Water into the world with this reading scheme unprotected. This is true. But if theatre-making is about risk, should the act of engagement of a theatre piece with an audience be stripped of risk altogether? Often, new plays receive a handful of readings – closed and open – as they find their way to the stage, if they ever do. The reading circuit is in part geared toward test-driving the play, under, I would say, false circumstances: a play is not meant to be merely read but to be performed. A reading is not a performance. It is a hybrid act of presentation. Nothing more. An in-the-moment, rehearsed or cold (unrehearsed) encounter with signs and markings on a page. The first reading of a musical score would be the equivalent analogy, except that the scores of plays are much more slippery to read due to the limitations and inexactitudes of language itself as opposed to musical notation.
In the case of The Way of Water, the first reading of the musical score – a musical score in evolution, mind you – was multiplied by fifty. Consider: 200 actors have now read the four roles in this play. 125 quartets, in other words, have had the chance to bring their musicality, instrumentality, sensitivity, craft and skill to bear upon the work. At most venues, there were upwards of 40 audience members or more. So, that's about 2000 people that have witnessed first readings of the score.
Therefore, the risk was not in sharing the work with known and unknown collaborators across many waters and continents, but rather in sustaining the very fragility of the text in the hands of so many, and allowing this fragility to find shape, breath, and voice. As different actors and directors at varying levels of experience took the script on for a day or two (in some cases), what began to emerge were strands of consistency in choices made, and the ability of the text to find its freedom as well. As I added and cut lines, and old and new drafts were read back to back (on occasion), my very process as a writer was exposed to audiences, perhaps unbeknownst to them. The fact that I could add lines or reshape scenes for a reading in Santa Fe and then a week later hear the old draft in Boston and the "new" draft in Columbus meant that I could re-test the score of the play and , in effect reposition it depending on given collaborators and audiences. It was like hearing different verses and refrains of a song in quick succession - the rough cut, the demo, the second demo, and so on – and be able to "replay," shuffle and repeat until the score began to sing the way it needed and wanted to sing. The risk of it all was and is everything.
By no means do I consider the play to be fixed in time and space, but I think that the choice, and the choices emboldened by my collaborators in this scheme, to open the play to a variety of audiences under a variety of circumstances has allowed the play to continue to breathe. Mind you, I did not expect to have fifty readings in a seven week period. At most, I thought maybe ten venues might wish to join hands across the water into the play's world and the artivist impulse that spurred it into being and take a little breath, and dive in without a tether line. This was an experiment, after all. Numbers were not a part of it. Only the passion of the intention to engage with communities through art-making. But as the number of venues and therefore collaborators grew, the possibilities of watching the play evolve, quite figuratively, before my eyes, and the ability to play with those possibilities outside of what would normally be the situation of being in a practice hall became a lesson unto itself – one I certainly had not expected, and for which, I am inordinately grateful to the many collaborators who have left their imprint upon the work, especially in the dialogue that has occurred before the readings themselves and after through our project blog and through individual emails and live conversations. It's that story told late at night after rehearsal or that anecdote shared on the fly in the middle of a ten minute break or the thoughts written over the wires that have become the "companion" text to The Way of Water and to its lived experience.
As the scheme has now drawn to an end - although the play is only now, ironically, making its way into the hierarchical script-vetting machine of the theatre industry - I am still sorting through and gathering – woolgathering, in fact – the musings and gleanings of audiences, actors, directors who have taken a day or two out of their lives to encounter the play over the last seven weeks. Some collaborators have seemingly vanished into the night. The busy-ness of life taken over. Others have continued to share stories, and open up about their processes as artists, and others still have continued to relay how they want to find new ways of making theatre and inviting audiences into a shared experience, even if it is at the level of the first reading of a score.
While there are many more thoughts swirling through my mind about the long-term damage to the eco-system because of the disaster, the continued "debate" over fracking and the Keystone XL pipeline, and the unstable economic conditions in which so many of our fellow citizens live (a condition with which that as a freelance artist I am all too familiar), I will leave for now with this thought, which has to do with the mixture of care and abandon demanded in the creation of any piece of art, and the equivalent care and abandon that is demanded of its embodiment and interpretation: If one believes art is not product, but rather something quite else, something not consumable, something, in essence, both fragile yet strong (able to cross, to break open, to find its way into the heart and sometimes the soul), then is it possible to believe that art, in its most fragile state, its state of flux whilst making, can still effect change? Isn't bearing witness to change in and of itself the beginning of transformation?
---Caridad Svich. 8 June 2012. For further reading see: "Obie Award Winner Caridad Svich on her Deepwater Horizon Play" on the Huffington Post, 22 May 2012 and "An Environment for Change" on TCGCircle.