THE WAY OF WATER in Baton Rouge, Louisiana
Wed, 06/06/2012 - 12:10
hhelinsky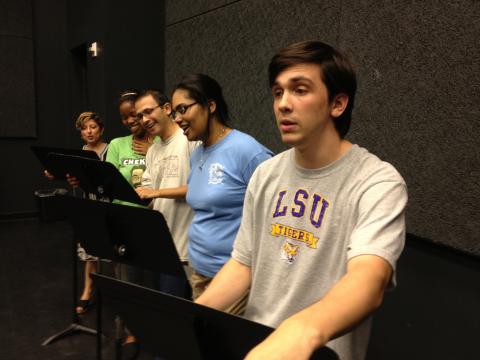 By Eric Mayer-García, director
After I first met Caridad Svich at the NoPassport Conference in April, it was not long before she told me about her new play, The Way of Water and its international reading scheme to raise awareness about the ongoing health crisis facing people on the Gulf Coast. Coming from LSU, and being based in Baton Rouge, I immediately knew that I had to do everything I could to organize a reading in Louisiana. In such an impromptu undertaking, it is difficult to discover how some can be completely unresponsive to a call to action that seems obviously necessary. However, it is much more inspiring to find allies for such a cause, in both new and old places.
I found a new ally, not in a local theatre, but in The Red Shoes, an organization dedicated to women's personal and spiritual growth. The Red Shoes donated space to our group (Off the Hyphen) for the reading because Executive Director Wendy Hershman understood the importance of the play reading; not only because of the play's international attention, but because she recognized that the play told a story that many members of our local community were longing to hear. Through the board members and associates of The Red Shoes, we were able to connect with many of the conservationists, environmentalists, and activists who responded to the oil spill. Two of these professionals participated as respondents in the post play discussion, Melanie Driscoll, Director of Bird Conservation of the National Audubon Society, and Marylee Orr, Executive Director of the Louisiana Environmental Action Network. They shared reflections on the play from their experience in responding to the unprecedented use of dispersants, like Corexit, and witnessing its effects on the environment and Gulf Coast communities.
I also found allies in the group of actors comprised of students, alumni, and faculty from the LSU community: Eddie Gamboa, Michael Mentz, Nikki Nadkarni, Solimar Otero, and Mercedes Wilson. When working on Svich's play we were first struck that the story of four people from Plaquemines parish could speak so clearly to many pressing issues in the US today, as it addresses under employment, lack of access to healthcare, and home foreclosure. These issues have contributed to a dilemma in the national psyche of the United States understood as the loss of a sense of security. The national dilemma here gives insight to the impact of trauma conveyed in the play, as the characters' sense of security washes away. This resonated deeply with Melanie Driscoll as a real effect of the oil spill, which she has noticed in local fisherman. Perhaps, the most powerful aspect of the play is that it provides a forum to discuss this latent and intangible crisis in Louisiana's costal communities. Finally, since people present at the reading understood the lasting repercussions of mass displacement from New Orleans and elsewhere after the 2005 hurricanes, Rosalie and Jimmy's final departure poignantly confronted our audience with the erosion of the cultural fabric in Southern Louisiana, in this case, through the demise of a way of life of coastal fisherman.
Presenting this reading of The Way of Water was a moving experience for everyone present. It gave those of us who were not already involved a remarkable platform to take action by marking, remembering, naming the unnamed, and raising our collective voice for those who have been left "unwhole" by BP's abusive and uncivil actions. It is so inspiring to see theatre be such a platform, albeit that this is exactly what theatre should be more often than it is not. 
The Way of Water by Caridad Svich was read on June 2nd, 2012 at The Red Shoes in Baton Rouge, Louisiana.